The P.K. Yonge Library actively collects materials relevant to African American history in Florida for all periods from the colonial to modern. Information on free people of color, slaves, black militias, and maroon communities can be found throughout the colonial records, the territorial papers, and records of the Civil War and Reconstruction. The civil rights movement constitutes a major focus of the materials on the twentieth century. Other areas where the African American experience is well-represented include biography, literature, and newspaper publishing and reporting.
Josiah T. Walls (1842-1905)
Soldier, Newspaper Editor, State Congressman and Senator, U.S. Congressman
Born in Virginia's Shenan-doah Valley in 1842, little is known of Walls' life until he enlisted in the Third Infantry Regiment, United States Colored Troops, in July 1863. The unit served in Florida beginning in 1864, and Walls had assignments at Baldwin, Jacksonville, and Picolata. Settling in Alachua County, he was a delegate to the constitutional convention of 1867 and then entered the state legislature. Beginning in 1870 he served three terms in the U.S. House of Representatives.
Klingman, Peter D.
Josiah Walls, Florida's Black Congressman of Reconstruction
Gainesville: University Presses of Florida, 1976
157 p.; 24 cm.
Florida Collection: E 664 .W19 K54
Matted Photograph: Josiah T. Walls
Florida History Photo Collection
Harry Tyson Moore (1906-1951)
Civil rights activist and NAACP organizer
Moore fought throughout his adult life for civil rights in Florida. He organized the state's branch of the NAACP in Brevard County, serving as state president from 1941 to 1946, and led the battle to equalize teacher pay, to gain African Americans the vote, and to force prosecution of lynching and other mob violence.
As Florida's most outspoken activist for equal rights, Moore became the target of southern racists, especially chapters of the Ku Klux Klan. When Lake County Sheriff Willis V. McCall shot down two handcuffed black prisoners in November of 1951, killing one and nearly killing the other, Moore was among the first to demand prosecution. He soon began to receive death threats for involving himself in the case. On Christmas night, 1951, both Moore and his wife Harriett died in an explosion that ripped apart the bedroom of their house. No one was ever arrested or prosecuted for these murders, although subsequent investigations in the 1970s and 1990s revealed a Klan plot to kill Moore.
Green, Ben
Before His Time: The Untold Story of Harry T. Moore, America's First Civil Rights Martyr
New York: The Free Press, 1999
310 p. ; 25 cm.
Florida Collection: E 1985.97 .M79 G74
James [William] Weldon Johnson (1871-1938)
Poet, novelist, composer, and civil rights activist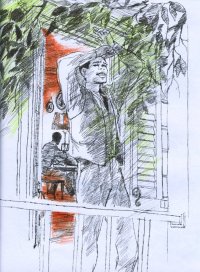 Johnson ranks with Mary McLeod Bethune and Zora Neale Hurston as one of Florida's best-known African American writers and educators. Born in Jacksonville, he attended Stanton Grade School and later earned his bachelors and masters degrees with honors from Atlanta University (1894 and 1904, respectively). He returned to Jacksonville as the principal of Stanton High School, and became the first African American accepted to the Florida Bar, briefly taking up the profession of law before heading to New York as a writer/composer.
In 1909 while serving as U.S. consul to Nicaragua he completed his early classic work Autobiography of an Ex-Colored Man (1912; first edition).
Back in the United States he turned his attention to civil rights. As field secretary of the NAACP between 1917 and 1919 he was responsible for setting up more than 130 chapters of the organization in southern states.
Johnson is remembered for his fight in the early 1920s to bring the crime of lynching to national attention. He also spent as much time as possible writing and composing. One of his early songs, "Lift Ev'ry Voice and Sing," became so popular with African American school children and with church and civic groups that it became known as the "Negro National Anthem." In 1930 Johnson left his work with the NAACP to teach writing at Fisk University in Nashville. During these years he published anthologies of poetry, and a second autobiography Along this Way. He died in 1938 in an automobile accident while traveling near his home in Maine.
"Our main effort must consist in hammering the trade unions continually with the self-evident truth that they cannot advance or maintain standards and conditions for white labor while they leave on the outside a ready and almost unlimited supply of black labor. We must convince the white worker that our help is needed in the winning of the cause of labor." James Weldon Johnson, Negro Americans, What Now?, 1935
Sources:
African Americans in Florida / Maxine D. Jones and Kevin M. McCarthy, Sarasota: Pineapple Press, 1993
Before his Time / Ben Green, New York: The Free Press, 1999
Josiah Walls / Peter D. Klingman, Gainesville: University Presses of Florida, 1976
James Weldon Johnson, Black Leader, Black Voice / Eugene Levy, Chicago: University of Chicago Press, 1973
James Weldon Johnson, guide to an exhibit at the National Portrait Gallery, June 15 1970 to June 1, 1971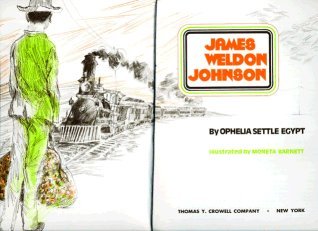 Egypt, Ophelia Settle
James Weldon Johnson
New York: Thomas E. Crowell Co., 1974
41 p.; 23 cm.
Florida Collection: FB J67e
Johnson, James Weldon, 1871-1938
Along this Way: The Autobiography of James Weldon Johnson
New York: Viking Press, 1969
418 p.; 20 cm.
Gift of William and Sue Goza
Florida Collection: E 185.97 .J692 A3x
Johnson, J. Rosamond (score); James Weldon (lyrics)
"Lift Ev'ry Voice and Sing"
New York: CLEF Music Publishing Corp., 1969
Belknap Collection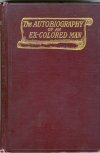 Anonymous (Johnson, James Weldon, 1871-1938)
The Autobiography of an Ex-Colored Man
First edition
Boston: Sherman French & Co., 1912
207 p. ; 21 cm.
Florida Collection: PS 3519 .O2625 Z513

Johnson, James Weldon, 1871-1938
Negro Americans, What Now?
First edition
New York: The Viking Press, 1935
103 p.; 19.5 cm.
Florida Collection: F326 J67n