The Belknap Collection for the Performing Arts spotlights the talented and determined African American women who faced resistance and adversity while perfecting their art on bandstands, theatre and concert stages, radio, film and in recording studios. Their art is their legacy. Actor Ossie Davis wrote: ". . . art, to us, was always, and still is, a form of self-assertion, a form of struggle, a repository of self-esteem that racism, Jim Crow, and the Ku Klux Klan could never beat out of us - the only authentic history that black folks have in America, because we made it ourselves."
Sources:
Black Magic: A Pictorial History of the African- American in the Performing Arts / Langston Hughes and Milton Meltzer.
Englewood Cliffs, NJ: Prentice-Hall, 1967
The Book of Golden Discs: The Records That Sold a Million / compiled by Joseph Murrells
London: Barrie and Jenkins, 1978
The Cotton Club / Jim Haskins
New York, Hippocrene Books, 1977
My Singing Teachers: Reflections on Singing Popular Music / Mel Torme
New York: Oxford University Press, 1994
A Separate Cinema / John Kisch and Edward Mapp
New York: Farrar, Straus and Giroux, 1992
Toms, Coons, Mulattoes, Mammies and Bucks: An Interpretive History of Blacks in American Films / Donald Bogle.
New York: Bantam Books, 1974.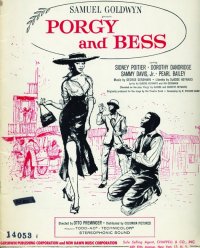 SHEET MUSIC, PORGY AND BESS (1959). Dorothy Dandridge (1922-1965) projected glamour and grandeur on stage and screen turning her into an "authentic new-style cultural icon for Black America" in the 1950s. Historian Donald Bogle wrote: "Although the marketed image appeared to be contemporary and daring, at heart it was based on an old and classic type - the tragic mulatto." The final irony was, throughout her career, no matter how high the peaks, Dorothy Dandridge was forced to live out an image that eventually destroyed her.
PROGRAM (ITALIAN), JAZZ IN UN GIORNO D'ESTATE (1959 - JAZZ ON A SUMMER'S DAY). Dinah Washington (1924- 1963). Her voice was rich and she filled everything she sang with heartfelt emotion, successfully blending the sacred music of her youth with the earthiness of the blues. Dinah Washington first sang professionally with the Lionel Hampton Orchestra in 1943. Her biggest solo hit was "What a Difference a Day Makes" in 1959. Her erratic lifestyle led to her sudden death in 1963, at age 39. Historian Jim Haskins wrote: "She was a woman whose music could inspire and sustain everyone, it seemed, but herself."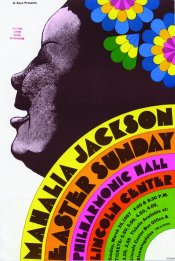 HANDBILL, MAHALIA JACKSON LINCOLN CENTER EASTER SUNDAY CONCERT (1967). Mahalia Jackson (1911-1972). Mahalia Jackson's recording of "Move on Up a Little Higher" was the first gospel hit to sell more than a million copies. She would give an entire evening's concert at the Newport Jazz Festival or annually at Carnegie Hall, but refused to sing in theatres or nightclubs - only in stadiums, churches and concert halls. In 1968, she sang at the funeral of Dr. Martin Luther King, where she gave an emotional rendition of "Precious Lord, Take My Hand". Jackson said of gospel singing "I try to give it the way I feel and most of the time I feel good. Amen!"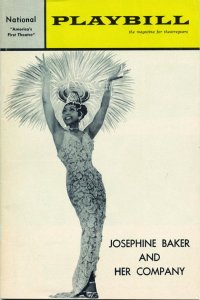 PLAYBILL, JOSEPHINE BAKER AND HER COMPANY (1964). JOSEPHINE BAKER (1906 -1975). The "Toast of 1930s Paris" in LA REVUE NEGRE, Baker's dancing and the "comedic and later sensuous use of her body" helped to create her legend. This show business celebrity, combined with her wartime record (assisting the French Resistance) and her post-war activities on behalf of deprived and homeless children, make her one of the major African American figures of the 20th Century

.

PROGRAM, THE BIGGEST SHOW OF '53. 1953; featuring (clockwise on cover) Sarah Vaughan, Nat King Cole, Ralph Marterie and His Down Beat Orchestra, and Illinois Jacquet and His Great Band). SARAH VAUGHAN (1924-90). Discovered by bandleader and vocalist, Billy Eckstine, she modeled her early style after Eckstine. Jazz great Mel Torme wrote, in 1994, "She was a product of the Bebop era, just as Ella grew up with Swing...she kept her ears open to Bird, Diz, and the other bop mavens from whom she gleaned a computer-brain full of phrases and riffs." Sarah Vaughan's name was synonymous with jazz singing for two generations and, according to many critics, "ranks as a close second only to Ella Fitzgerald in terms of influence, vocal range and sheer consistent brilliance."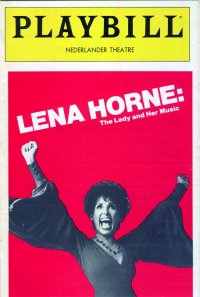 PLAYBILL, LENA HORNE: THE LADY AND HER MUSIC (1982). Lena Horne (1917- ). In the 1940s, NAACP Secretary Walter White predicted that Lena Horne "would alter the trend of Negroes in American movies." She was already a star before heading to Hollywood, having headlined at the Cotton Club at age 16, starred in Lew Leslie's BLACKBIRDS on Broadway and been the toast of New York at most major night spots. Her career on film is legendary, but unsatisfactory. She lost her most coveted role, in SHOWBOAT, to Ava Gardner and, as a result of her marriage to white musician, Lennie Hayton and friendship with Paul Robeson, she was basically blacklisted in the entertainment industry in the 1950s. Her extraordinary comeback to the concert stage in the 1960s and 70s thrilled audiences and her autobiographical show, LENA HORNE: THE LADY AND HER MUSIC received a special Tony Award for "Distinguished Achievement in the Theatre" in 1981.