John Steptoe is just one of many African American authors and illustrators represented in the Baldwin Library of Historical Children's Literature. It was in the 1930's that teachers and librarians recognized the need for better books about the black experience, which could be shared with children. Augusta Baker, a young librarian in Harlem in 1937, was appalled at the representations of blacks in the picture and story books which presented them, she said later, "as shiftless, happy, grinning, dialect-speaking menials," and she challenged publishers, editors, authors, and illustrators to produce unbiased, accurate, well-rounded pictures of African American life. She published widely distributed bibliographies of appropriate books, which met these parameters.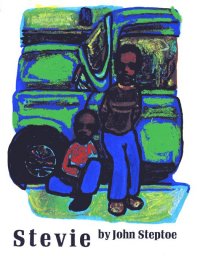 It was a long, slow, painstaking road, but John Steptoe's work Stevie, published in 1969, served as one of those books which opened the door for a widening array of well written, wonderfully illustrated books for children which center on the African American experience, in both fictional and non-fictional publications. The Baldwin Library has an extensive collection of books by, for and about African Americans from the 1930s to the present day, providing a rich resource for the study of the evolution of African American literature for children accompanied by bibliographies and biographical dictionaries which provide access to these books and their authors and illustrators.
John Steptoe Award for New Talent
McDonald, Janet
Chill Wind
New York: Farrar, Straus and Giroux, 2002
The Baldwin Library: 23h3191
In 1995, as an honor to John Steptoe, The Coretta Scott King Task Force of the American Library Association's Social Responsibilities Round Table created the John Steptoe Award for New Talent. These books acknowledge and affirm new African American talent and offer visibility to excellence in writing or illustration at the beginning of a career. The 2003 winner of the John Steptoe Award for New Talent was presented to Janet McDonald for Chill Wind, a story filled with humor even as it portrays harsh truths about a single teenage mother in the inner city.
John Steptoe (1950-1989)
John Steptoe was an innovative children's book author and illustrator. Born in Brooklyn, New York, he was one of the first to relate the urban black experience to a primary grade audience from an authentic perspective. His first book, Stevie, published when he was 19, was a groundbreaking book and catapulted Steptoe to national prominence. Written by a young black inner-city man in the language of black urban youth and illustrated in a style reminiscent of Fauvism, the book was unprecedented in American publishing. As a teenager, Steptoe was aware of the lack of books for black children that reflected their lives. "One of my incentives for getting into writing children's books," he said, "was the great and disastrous need for books that black children could honestly relate to. I ignorantly created precedents by writing such a book. I was amazed to find that no one had successfully written a book in the dialogue which black children speak."
Steptoe's artistic style underwent several transformations. His first books harken back to Fauvism, with their dark outlines and wide swatches of bright paint executed in a soft smudged style and enclosed in heavy outlines. In the early 1980's he moved to a more energetic electrified-looking style rendered in subtler tones of browns and grays, eventually arriving at a more realistic style in both color and representation.
He also moved away from the black American urban environment for his inspiration, looking to African settings and tales for Mother Crocodile and Mufaro's Beautiful Daughters, and adapting a Native American legend in The Story of Jumping Mouse.
Steptoe received many accolades and awards for his work, including the Coretta Scott King Award for Illustration for Mother Crocodile and Mufaro's Beautiful Daughters. The latter title, along with The Story of Jumping Mouse, was also named a Caldecott Honor Book.
Sources:
Something About the Author, Anne Commire, ed., Detroit: Gale Research Company, vol. 8, 1996
Children's Literature Review, Gerard J. Senick, ed., Detroit: Gale Research Company, vol 12, 1987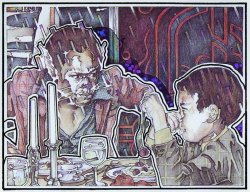 Steptoe, John
Daddy Is a MonsterůSometimes
New York: J.B. Lippincott, 1980
The Baldwin Library: 23h35734
Most children find their parents to be monsters sometimes and these feelings are humorously and lovingly discussed in Daddy Is a Monsterů Sometimes by two children who recall several transformations, brought on by their misbehavior, of their usually quiet human father.
Steptoe, John
Stevie
New York: Harper & Row, 1969
The Baldwin Library: 39h10363
In Stevie, Steptoe's first book, a young boy, Robert, has to overcoming feelings of jealousy when his mother begins caring for a friend's child during the week. At first, Robert resents Stevie who plays with his toys and takes away some of his mother's attention, but when Stevie leaves, Robert misses him and realizes he had become "kinda like a little brother."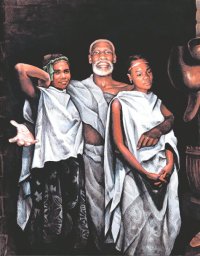 Steptoe, John
Mufaro's Beautiful Daughters
New York: Lothrop, Lee & Shepard, 1987
The Baldwin Library: 39h12707
Mufaro's Beautiful Daughters is based on a Zimbabwe folk tale about a man who presents both his daughters to the king who has decided to take a wife.
Steptoe, John
The Story of Jumping Mouse
New York: Lothrop, Lee & Shepard, 1984
The Baldwin Library: 39h12708
The Story of Jumping Mouse is an adaptation of a Native American "why" story that explains how the eagle came to be.
Clifton, Lucille
Steptoe, John, illustrator
All Us Come Cross the Water
New York: Holt, Rinehart and Winston, 1973
The Baldwin Library:
In All Us Come Cross the Water, a teacher asks her pupils to stand in groups according to what country their family comes from, prompting young Ujamaa to begin a search for his roots.
Baker, Augusta, selector
The Black Experience in Picture Books
New York: The New York Public Library, 1971
The Baldwin Library: Z1361 .N39 B2 1971 (Reference)
Murphy, Barbara Thrash
Black Authors and Illustrators of Books for Children and Young Adults
Third edition. New York: Garland Publishing, Inc., 1999
The Baldwin Library: Z1037 .R63 1999 (Reference)