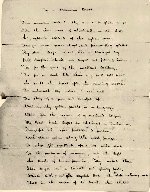 PART III
Henry Wadsworth Longfellow

Edited by David L. O'Neal and Mary T. O'Neal
"This collection displays Longfellow's achievements as poet, writer, teacher, linguist, translator, and editor. It is remarkable for the incidence of great rarities and unique copies, and for the many association books, inscribed to the author to members of his family or to friends."
Contains: 358 printed titles; 19 manuscripts; 58 sheet music titles.
Richard Henry Dana. Jr.

Edited by Kevin B. MacDonnell
"The copies of Two Years are stunning. Here is one Dana gave to the doctor who sent him on the voyage that inspired this American classic of the sea. Here, too, are the copies Dana gave Sarah Watson as his fiancee and as his wife. Nearby is the author's own copy, marked up for the important 1869 revised edition."
Contains: 46 printed titles, + Addenda of 10 pamphlets purchased by the Howe Society.