-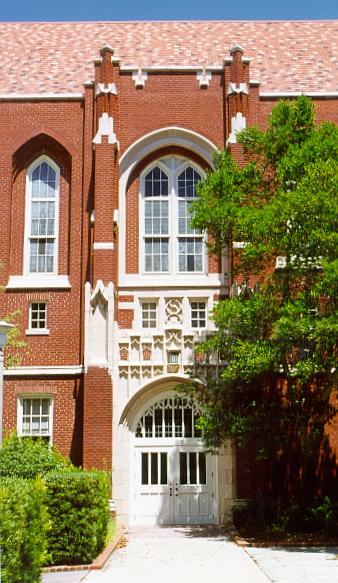 Smathers Library
-
The University Library was the largest campus building when it opened in October, 1926. It was the last building designed by UF's first architect, William A. Edwards. When the neighboring Library West opened in 1967, this building was renamed Library East. Library East became Smathers Library in 1991 in honor of UF benefactor George Smathers, former U.S. Senator.
-
Although it has been renovated and expanded several times over the years, Smathers Library has retained much of its exterior and interior character and ornamentation. A feature of its large Reading Room is a mural, The History of Learning in Florida, by Hollis Holbrook.
-
Smathers Library was added to the National Register of Historic Places in 1979. It is a part of the University of Florida Campus Historic District, a collection of buildings added to the National Register as an historic district in 1989.
For more images of Smathers Library, consult The Gallery.
Find out more about this building's architectural style.
Consult the Resources Guide to identify articles and more information about this building.