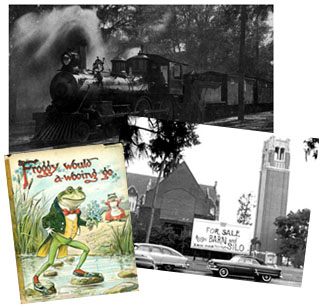 The Department of Special and Area Studies Collections increasinlgy provides access to digital reproductions of unique and special holdings. In addition to digital resources found throughout this departmental web site, the University of Florida Libraries has launched a new Web site featuring thousands of items held by Special and Area Studies Collections. UF Digital Collections (UFDC) enables researchers to search and browse for both text and image resources in a wide variety of subjects and formats.
The Children's Literature Collection, funded by the National Endowment for the Humanities, features digital reproductions of holdings from the Baldwin Library of Historical Children's Literature. The Children's Literature Collection is the world's largest digitized collection of historic children's literature.
The Florida Photographs collection currently contains more than 10,000 images of Florida and UF history drawn from the holdings of the P.K. Yonge Library of Florida History and the University of Florida Archives. And UFDC will soon host Florida newspapers and Caribbean and Latin American Studies materials based on holdings of the department.
UFDC includes resources grouped into sections: Arts, Humanities and Social Sciences, Florida, World and External Collections. UFDC is free to anyone, anywhere, anytime to use. The UFDC Web site link is ufdc.ufl.edu