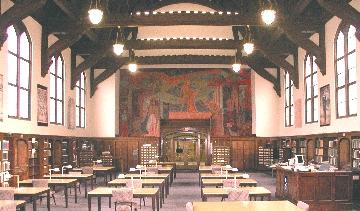 The Department of Special and Area Studies Collections supports the information needs of the University of Florida community. We often support the information needs of communities outside the university. Utilizing professional standards and best practices to preserve, develop and maintain special and area studies collections, we serve our various constituents as a catalyst for research and discovery.
Special and Area Studies Collections encompasses two units: the Area Studies Collections and the Special Collections of the University of Florida.
The Area Studies Collections are the Latin American Collection, housed on the fourth floor of Smathers Library, and the Africana and the Asian Studies collections, which are integrated with the general collections in Library West. The Price Library of Judaica is located on the ground floor of Library West.
Special Collections include Baldwin Library of Historical Children's Literature, the P.K. Yonge Library of Florida History, Archives and Manuscripts (including the University Archives and Architecture Archives), the Harold and Mary Jean Hanson Rare Book Collection, and the Popular Culture Collections (including the Belknap Collection for the Performing Arts and the Suzy Covey Comic Book Collection). These collections are accessed through the Special Collections Research Room on the second floor of Smathers Library. Because these materials do not circulate, patrons must use them in the Research Room. We encourage patrons to call, write, or e-mail in advance of their visit. To facilitate access to these diverse collections the majority of our holdings are described in the Libraries' Catalog and descriptive finding aids for the manuscript and archival collections are available online.
In addition to digital resources found throughout this departmental web site, the UF Digital Collections (UFDC) provides access to the digital reproductions of thousands of items held by Special and Area Studies Collections.
For more information about the Special and Area Studies Collections Department and Smathers Library, watch our video guide.